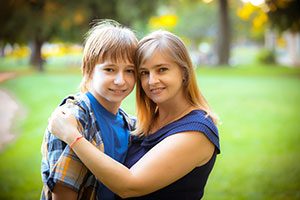 Introduction: Children need and deserve a relationship with each parent, even when the parents are separated or divorced. When parents continue the conflict during separation or after the divorce, it's very difficult for the children. Research now concludes that children suffer psychological and developmental effects from poor co-parenting, continued parental conflict, and alienating behaviors by parents and these negative effects extend beyond childhood into these children's own adulthood.
Research also concludes that a children who are exposed to chronic strife and conflict between their parents during separation and after a divorce have increased frequencies of the following: aggression, behavioral problems, truancy, problems with authority, drug abuse, promiscuity, social alienation, delinquency, and school failure. When adolescents internalize their emotional pain, suicidal ideation increases, as well as internal angst and grief. Moreover, 20-25% of now-adults who experienced high conflict divorce as children had significantly more psychological problems as adults than their counterparts who grew up in intact families (10% of these adults had psychological disorders).
We believe that the majority of parents want to do the right thing for their children in separation and divorce situations, but many times they don't know what to do or they get caught in the posturing often required in the legal system in order to win their case.
Resetting the Family is a series of intensive educational programs designed to address the negative effects on children of poor co-parenting and/or alienating behaviors by parents. All parents, whether separated or divorced, are appropriate for consideration into the program. Step-parents and other adults, such as grandparents, are also appropriate for consideration to participate. Children between the ages of 9-14 years are appropriate for the children's intensive educational programs.
Resetting the Family will help your family create a new family model post separation or divorce through several educational intensive depending upon your family's needs.
Intensive co-parenting program: In this intensive educational curriculum, parents are taught through multi-media teaching methods, role-playing, active discussion, and course activities the negative effects of poor co-parenting and continued parental conflict on the child's developing brain, including emotional development, social development, and psychological development. The course is very dynamic and by the end, you will have 1) a much greater understanding of what chronic parental conflict is doing to your child's overall development and 2) a new set of co-parenting skills that will significantly help you navigate the changes brought by separation and divorce such that your child doesn't suffer the consequences of parents who can't get along. Some of the co-parenting topics include improved communication, navigating issues related to discipline between the homes, strategies for shared activities, and conflict resolution skills to avoid costly court intervention.
Intensive co-parenting with alienating behaviors program: When poor co-parenting also includes a chronic pattern of alienating behaviors (e.g., denying parenting time, bad mouthing the other parent to the child, presenting a parent as incompetent) that weaken the parent-child bond, the blended program which includes co-parenting with attention to chronic alienating behaviors is appropriate. In this intensive educational curriculum, all parents are taught the critical co-parenting skills necessary to help children deal with separation and divorce as described above under "co-parenting." In addition, the parents who are on the receiving end of alienating behaviors by the other parent will learn how to better respond to and manage situations in which the parent-child relationship is being negatively affected. The parents who are engaging in alienating behaviors will learn how to identify the triggers that result in such behaviors, as well as learning healthier parenting skills than alienating tactics.
Intensive children's program: The intensive educational program for children, ages 9-14, teaches the child the important cognitive skills, thinking skills, and problem-solving skills necessary for the child to recover from the negative developmental and emotional effects of poor co-parenting and/or alienating behavior by parents. We also help the child learn the skills necessary to resist any future strife between his/her parents.
Note: Resetting the Family is not therapy or counseling and it is not appropriate for families if severe alienation is present.
---